Community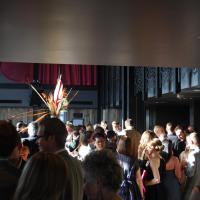 Share your experiences or your thoughts !
Join the Michelle Bird Community
Add photos or videos below as well by attaching them to a message !
Also Join on Facebook
7 guestbook message(s)
Tour was a blast, but you haven't posted much since then!!! Come back ;)
Hey we met in Dublin. Come back soon!!!
Hey saw you at the Squealing Pig, i was there wit hmy Grandpa
A true songbird, pun intended :p

Will definitely try to be there for the tour, anybod from Gloucheshire wanna carpool to the show. Email me at helehell@gmail.com
Great Show!! Had to leave early but wish I could've stayed to end
Wow! Went wih my girlfriend because she coerced me into going... at the end of the day glad I went. Great tunes
Chelly (link)
On 04/09/2015
I went ot one of her shows because we have the same name.. kind of a silly reason, I know. But I became an immediate fan after hearing her sing and play. Her stage presence was so zen and nautral and that helped me really enjoy the show. I got to meet her after and I will definitely try to see her again on her tour!

Hello Michelle Bird!
Add a message to the guestbook